Katie Joyce, University of Galway (Bachelor of Arts)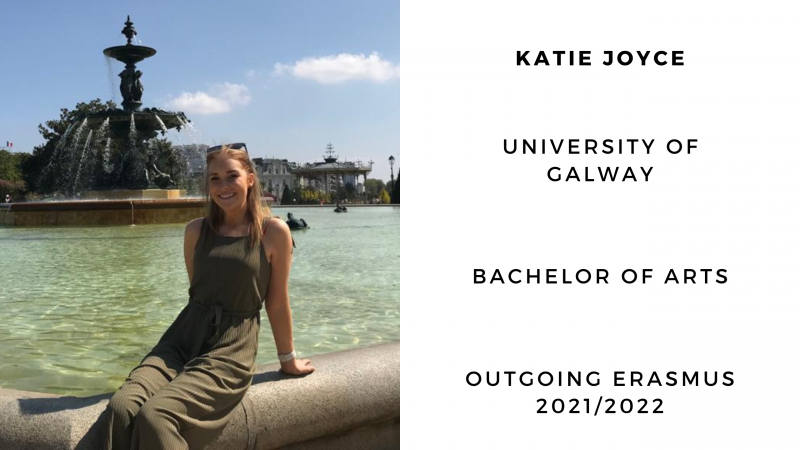 Where did you study abroad? 
University of Angers in Angers, France
What did you study abroad?
French language, conversation and translation 
Did you join an ESN Section abroad? Favourite Event?
No, unfortunately, there is no ESN Section in Angers.
What is your favourite memory from your Erasmus experience?
Trying and learning new things and speaking a different language regularly
Did you also travel to any new countries while studying abroad?
I did not travel beyond France but I did travel within France, I went to Normandy and Paris There were a lot of opportunities to travel around France because there was an Erasmus group which organised trips, and this was so convenient since you could meet other Erasmus students and explore a new town.
Do you have a fun fact about studying abroad?
You would meet new people that lived in your country and you would learn more slang words and other common phrases that you wouldn't learn in an educational setting. Another great fact from studying abroad is that you learn a lot about yourself and what you are capable of doing and feeling more independent.
Top tips for the University/City you studied at? Favourite places? Shops? Restaurants?
I think that a tip that really helped me is to go to your abroad country well keeping in mind that you don't want to have any regrets and be open to trying new things, this really helped me and will hopefully help others. I think France is an amazing place to go for an Erasmus because the transport system is amazing and you can really go anywhere.
Ava Hodgins, TU Dublin (TU965 - International Business and Languages)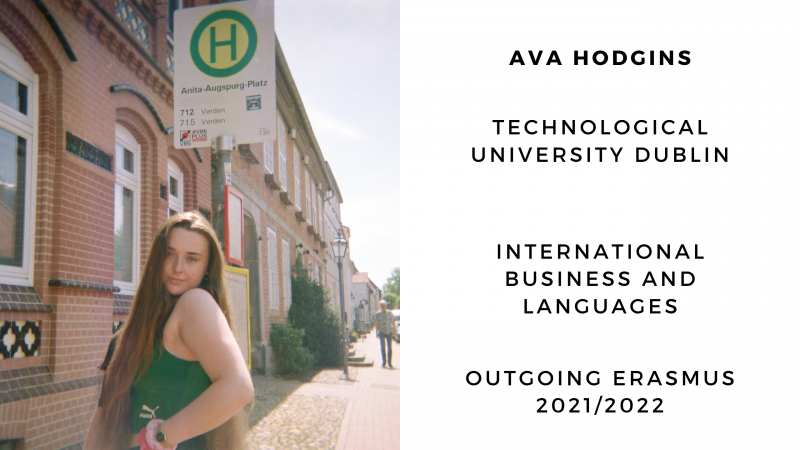 Where did you study abroad? 
Bremen, Germany 
What did you study abroad?
I got the pleasure of being an English Language Assistant in Bremen, Germany. I was extremely lucky to be placed in a primary school working with ages 6-12. With working in a school I feel I got to see all the cultural aspects particularly around the holidays. I had so much fun teaching that it never really even felt like work! It confirmed my love and passion for teaching and I loved it that much, I am applying to do it all again this year!  
Did you join an ESN Section abroad? Favourite Event?
Yes! I met some great people through here when I first arrived in Germany. Still friends with a lot of them now too! 
What is your favourite memory from your Erasmus experience?
It's truly hard to pick just one. I feel like ELA made my experience more enjoyable and gave me the freedom to travel and take in as much as I did compared to those who studied in Uni and had a bit more added pressure so definitely think that added to my positive experience. Alicante was definitely one of my top favourite moments getting to travel and see my best friend was amazing and being in final year now and reflecting, we wish we did it so much more so take full advantage of this year! Even if its a quite weekend, go to the cinema, that was actually some of my most enjoyable weekends too. The cinemas in Germany were quite old fashion and it gave you chance to improve your language too. 
Did you also travel to any new countries while studying abroad?
I travelled a lot on my Erasmus. 
My first trip was Cologne, travelled here by train. You definitely need to book a seat or you'll be sitting!  Then travelled to Berlin a few times because my best friend stayed there which was great. Berlin is a whole experience in itself, you go once, you'll be planning your next visit!  Hannover was quite close to Bremen so I went here a few times, its quite pretty and great atmosphere. Verden was actually the town where I lived, a little outside Bremen and I loved that town so much. It had the greatest atmosphere and cafes and little gems that really made it feel like home, I had my regular visits to the coffee shops and became a regular at a lot of them. 

I visited my best friend in Alicante Spain which was amazing!! Never say no to visiting people when they ask, it was the best trip ever and I got to meet other people in my course which I never would of spoke to before so it was amazing, best trip! I got a flight here from Bremen and it wasn't overly expensive, think we discovered it was more expensive to go from Dublin - Alicante so that was a bonus. I also travelled to Frankfurt which was quite historically and cool, pretty business-y so it is slow and quite Monday-Friday. 
Do you have a fun fact about studying abroad?
The School system definitely showed me a lot of differences: the kids rotate to different classes, they don't stay in the same room with the same teacher, it is almost like secondary school. My school also had therapy dog that strolled around the school to comfort kids which was so cute and I would take them on walks for my break. 
Sunday in Germany is like the day of rest, EVERYTHING is closed. There was always one week in the month when I forgot this and had no food or water for the day so set a reminder!!
Top tips for the University/City you studied at? Favourite places? Shops? Restaurants?
Bremen has a lot of hidden gems and treasure in the cracks of their streets, never overlook them, always take time to explore and go down, I found some amazing cafes and stores doing this. 
Never say no! Always be up to explore, the year goes by so fast and you don't want to have any regrets. My whole course was on Erasmus in different places and whenever someone asked me to visit, I hopped on a flight or train and had the best weekends ever! 
Get a diary! This is a massive year of not only learning but also growing. I loved taking fifteen minutes of my day and sitting by the harbour (which became my little spot) and writing about; what I did that day, what I learned and most importantly, how I was feeling (cringe, I know) but when you're abroad and away from home, its easy to feel lonely and homesick. Reflecting back on my diary, I realised how much I grown as a person and its also nice to document some memories of things and I glued in some train receipts and plane tickets of places I visited with photos too. 
Disposable cameras make for some of the best photos too and keeps you in the moment! I loved getting once each month and snapping a photo everyday and waiting for them to develop, definitely recommend doing it. Even doing little things like this gets you out exploring.
Bremen hot spots: 
LaViva for a night out, met some friends here
Piano Cafe in the Viertel 
Noosu for a great chinese, just by the train station 
Friends Bar, met some of my best friends here and great cocktails and vibe
Manan Midha, UCD (MSc International Business)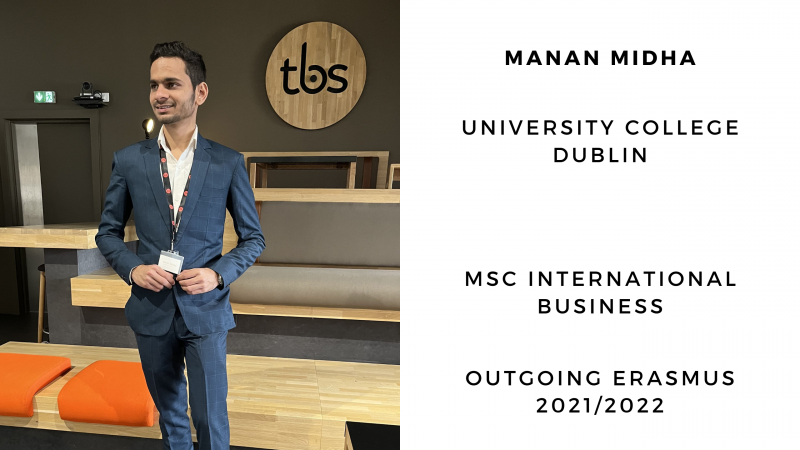 Where did you study abroad? 
Toulouse Business School, Toulouse, France
What did you study abroad?
The modules I studied were International Political institutions and business, Sustainable development and inclusive business, International Human Resource Management, Business communication, and issues in management control and performance.
Studying all these modules was fun and new for me. We had practical and creative exposure while studying with students from all around the world gave us a broad perspective on how international markets work.
Did you join an ESN Section abroad? Favourite Event?
Yes, I joined ESN Toulouse and It was the best thing I did to make friends and attend events. I met students from around the world through ESN. My favorite ESN memory was when we all went for a PUB crawl. we were partying all night in Toulouse. Everyone was sharing their traditions and having fun. I made students from around the world dance to Indian songs.
What is your favourite memory from your Erasmus experience?
Luckily on my birthday, I was at my exchange and 10-15 of my college friends wanted to surprise me and for that, they booked an Indian restaurant for dinner. We all have to go for dinner on 15th march on my birthday. But somehow there were talks in college that some of the group is going to eat at an Indian restaurant and many wanted to join as well. Later that night someone posted in Erasmus groups that we are going to an Indian restaurant for dinner and if someone wants to join they can come. We all were sitting in the restaurant and I see a lot of students coming and joining us and I know neither of them except for that 10-15 whom I know. The plan was so viral that almost 200 students came and it was so mad. The restaurant has a capacity of 20 and we all were so confused about how these people are coming. It turned out there was some confusion and everyone thought there was a get-together of Erasmus students at an Indian restaurant. we all went to the city and danced on the roads and I actually celebrated my last birthday with 200 students from all over the world singing and dancing and it was the best birthday of my life.
Did you also travel to any new countries while studying abroad?
Yes. As an Indian national I need a visa to travel to Europe. Because of Erasmus I applied for a visa and got my visa for 5 months. I traveled to a lot of places in Europe
If I have never got this opportunity I would be in Dublin and never would have seen such beautiful places. I have been to Paris, Italy, Portugal, the Netherlands and so much more. I backpacked to a lot of places and learned how to travel alone and manage the expenses and make friends with unknown people.
Do you have a fun fact about studying abroad?
Studying abroad changes your perspective on life. There are a lot of beautiful places one needs to see and experience. This experience is something that you will never forget for your whole life. Every day you learn something new and each day makes you more brave and confident
Top tips for the University/City you studied at? Favourite places? Shops? Restaurants?
Join an ESN Section. Before coming join their WhatsApp and Facebook groups.

For the best nightlife go to : downtown factory Toulouse, Limelight and Opium.

Travelling is cheap. You can get a unlimited metro and bus card for 10 euros a month.

"Le Shahi Dhaba" has good Indian food and is not much expensive.

 Life is a collection of moments. I know the process, the visas, and finding accommodation could be hard, but you will never know what you would be missing so if you do get this opportunity just say yes. 
Christine O'Mahony, Maynooth University (LLB)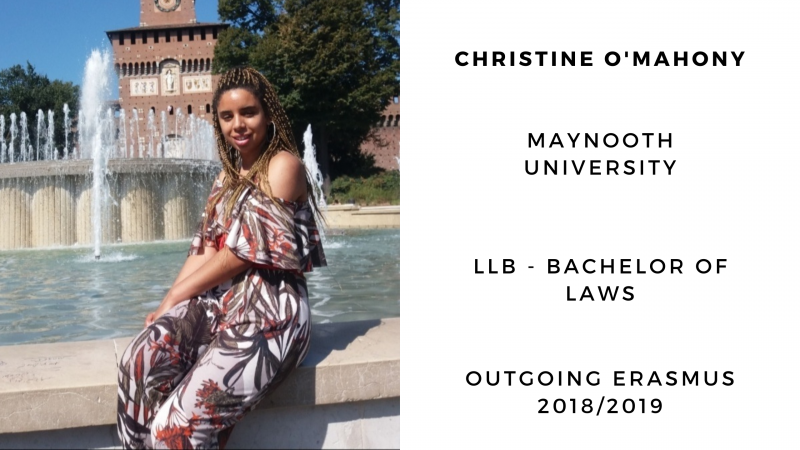 Where did you study abroad? 
University of Trento, Trento, Italy 
What did you study abroad?
I studied mainly modules in Law, including Comparative European and International Legal Studies.
Did you join an ESN Section abroad? Favourite Event?
I joined ESN Trento as a member, I enjoyed the trip to Florence/Pisa and going to Oktoberfest and Innsbruck with them.
What is your favourite memory from your Erasmus experience?
One of my favourite memories is going to Oktoberfest with ESN Trento.
Did you also travel to any new countries while studying abroad?
Yes, during my Erasmus, I took a Flixbus to Innsbruck in Austria, which took 2 hours and 30 minutes. I also travelled by plane to Naples in Southern Italy. 
Do you have a fun fact about studying abroad?
Not all exams are written like we would have in Ireland, in Italy they have oral exams.
Top tips for the University/City you studied at? Favourite places? Shops? Restaurants?
Learn everything by heart as they do oral exams,

It is completely normal to drink wine in the morning and afternoon in Italy,

When you order a pepperoni pizza, be warned its actually peppers, order a Salamino pizza if you want "our version" of Pepperoni,

Urban coffee lab does nice pancakes and coffee/hot drinks.
Louise Farren, DCU (BCLYA)

Where did you study abroad? 
Universitat de Valencia, Valencia, Spain 
What did you study abroad?
I studied mainly modules in Law including Criminal law, Civil Law, Family & Succession law, constitutional law, human rights, humanitarian law, legal history, political economy, nationality & immigration law, Roman law, EU Law
Did you join an ESN Section abroad? Favourite Event?
Yes, I joined ESN en UV and my favourite event was the city tour and trip to the Oceanographic aquarium in the first week of my Erasmus.
What is your favourite memory from your Erasmus experience?
I don't have any specific favourite memory, I just loved the feeling of being more independent and getting to explore a new country by living there, visiting new places, trying new things and meeting new people all the time.
Did you also travel to any new countries while studying abroad?
No, I preferred to take trips around Spain but I did travel to Gran Canaria while living in Spain.
Do you have a fun fact about studying abroad?
It sounds cliche but it really does change your perspective on life, your career and what you want to do and what you value most!
Top tips for the University/City you studied at? Favourite places? Shops? Restaurants?
Universitat de Valencia offers so many classes in English so I would definitely recommend enrolling in those as early as possible! 
Try to live somewhere that's close to campus but also accessible to the city and the beach! And the food in Valencia is amazing and super cheap so eat out as much as you can!
Róisín Cullen, DCU (BAJH)

Where did you study abroad? 
Université Rennes 2, Rennes 
What did you study abroad?
I studied English literature when abroad. We studied works like Romeo and Juliet, Pride and Prejudice, A Streetcar named desire etc. It was strange because a lot of the lectures were in French! This was a great opportunity though to be immersed and to see the things you have already read/studied in a different light. University was a lot like secondary school, with small groups. I was so shocked when someone asked the professor if they could go to the toilet. 
Did you join an ESN Section abroad? Favourite Event?
I joined ESN during my very first week and it made all the difference. The former chairperson of ESN Rennes is now one of my closest friends. We met because she was wondering if I had bought a ticket for their Disneyland trip yet. Chat and beer Mondays were where we all met our friends, and walking into the pub was the equivalent of walking into your local at home. We met people from all the different countries, danced on the tables and then usually went on to Penny Lane (the late bar). "Are you coming Penny Lane?" was the most important question of all, because no was never usually an answer. Every Monday night finished with The Beatles immortal line- "Penny Lane is in my ears and in my eyes". 
This line was never as important than when we all gathered in the pub for the last time before lockdown forced us all to separate. I remember looking around and thinking about how important the people around me at that time were to me and how lucky I was to have met them. I know for the fact that these friends that were once strangers will be by my side during all the highs and lows of life (even during world pandemics).  Erasmus and ESN gave me that opportunity. Every time that song is played, I remember countless ""I'm getting an early night, I have a 9am"" nights that became late nights, conversations using various hand signals (language barriers can always be overcome) and doing the conga in the street with Celtic football fans. 
During some of the most challenging lockdown days I play that song and I am back on that stage surrounded by people that I love, people that are now scattered all over the world. I imagine myself sitting on a bench in Parc du Thabor or sitting in a kitchen as someone makes fancy coffee. I look forward to the day when quarantines are a thing of the past and when friends are once again only a train ride or a cheap flight away. But for now I take great comfort in the fact that out of all the places I could have ended up in the world, I had the pleasure of travelling to Rennes. 
I'm not going to be cliché and say that I found myself on a year abroad. What I found was far more important- remarkable friends I can always count on and people I will be telling my grandchildren about.
The ESN weekend trips never disappointed. The long bus journeys and multiple garage stops were always worth it! Not ashamed to say that many of us got emotional during a Disneyland Christmas parade or that one of the English girls got her hair entangled with an umbrella (in a fight to the death) on the sand dunes in Bordeaux (Dune de Pilat). We all climbed up the dunes in our bare feet, but it was freezing cold and raining. The whole event a bit like a pilgrimage. 
Karaoke nights took place in a bar that was so packed you would have trouble getting in the door (just pre-coronavirus things). It all became quite competitive the minute "The Cranberries" were mentioned. It was great to see people sing songs that were popular in their native languages. Even if you didn't know the words, you would get the gist and end up dancing on the stage with them. 
I think I would class introducing an Australian to the Late Late Toy Show as a spiritual experience.
What is your favourite memory from your Erasmus experience?
I have so many amazing memories from Rennes, it's so difficult to narrow it down. What I wouldn't give to be walking around sunny Parc Du Thabor or strolling down Rue de La Soif. 
I remember swimming in Saint-Malo ( a nearby seaside town) as the sun was setting on the makeshift pool in the seal. The water was warm and I could see my friends in the background. I remember wondering if any of it was real, it was so surreal and to an extent still is. I remember trying and failing to ice skate and repetitive fire drills that always seemed to happen when I was having a shower. I remember finding a mattress on a walk home and jumping up and down on it for probably half an hour. Transmusicales was a festival that took place in airport sheds. It was definitely a change to be drinking mulled wine at a festival wearing a coat and scarf instead of sitting in a field on a sunny day. 
When travelling from the Netherlands back to Paris on my own, my FlixBus broke down around 4 am. Waiting on the side of the road because all the mechanics in Belgium were asleep, should probably be a memory you would like to forget but it always makes me laugh. 
As does Bordeaux Superior wine, trips to Carrefour, a particular slide in McDonald's and three euro Metronome meals. 
Strikes and protests were commonplace, so our lectures were usually replaced with trips to local pubs, picnics in the park and pretending to know things about art. 
Did you also travel to any new countries while studying abroad?
I travelled to a few different countries when studying in Rennes. Amsterdam was first on the list where we somehow ended up in a far above average hostel. A lengthy bus journey took us over international borders. I had forgotten my passport and have never felt more grateful for being a part of the EU. There we went to (shock horror) .. a few coffee shops. I somehow got a ticket to Anne Frank's house which has been something I have wanted to do since I was very young. I cannot stress the fact that everyone should visit once in their lifetimes, enough.  Various cups of tea later got us through pure exhaustion. 
I then embarked on another FlixBus towards The Hague, to be met by a screaming friend at a tram station (a proud ESNer). This was of course the former ESN chairperson. Which just goes to show the importance of the group. Someone who was once a stranger became a person I would travel anywhere to see, even just for a quick coffee or a pint. 
"Do you want to put anything in the boot", she said pointing at her bike. A friend from Belgium also stayed for a weekend of pancakes, rosé and badly made spaghetti (I'm sorry).
On our travels, we ended up buying a couch for the apartment and hitching a free Uber in the back of the delivery van. Things quickly turned downhill and became very like a particular scene in "Friends" when the sofa would not fit in the doorway. "Pivot, Pivot, Pivot", did not even work resulting in a number of neighbours coming out to watch the scene resolve. 
I was always struck by how many amazing, lovely people I met during my Erasmus year and the delivery men would fit that description. When leaving The Hague, I enquired in a hotel as to the whereabouts of a bus station and the man literally went above and beyond even though I wasn't a paying customer. The resounding message from my Erasmus experience was that there is far more good in the world than bad. This is something that gives me great comfort even in the trickiest of times. 
When we travelled to London on a cheap Ryanair flight, coronavirus was becoming a guest character in our lives. Gossip about the virus started to creep into conversation, a dark figure hanging in the shadows. We met a wonderful Derry Girls look alike (a former Rennes 2 student) and an overall fantastic human being in London. The hostel was cold and extremely purple, with a dodgy toilet door. It never stopped raining but we didn't care. We bought a bottle of travel hand sanitiser as a joke, shortly before it quickly stopped being a joke. 
I remember arriving late to a club and being greeted by a friend from the same county as me. We had never met before we saw each other on an orientation day in France.  I'm a big believer in the fact that there are people you are destined to meet in your lifetime. ESN speeds this process up a bit and I am eternally grateful. 
Do you have a fun fact about studying abroad?
I went to France with very little French meaning that my first few weeks could be summarized with a lot of hand gestures and miscommunicated messages. When I first got the key to my accommodation, I was fresh from Electric Picnic. I was wandering aimlessly through the apartment blocks until I heard an Irish accent. Two Cork natives invited me to their floor and helped me with my suitcase. I knew from that moment on that I would be grand, and think a lot about that day a lot. I must admit I often did get people to relay my Subway order (because that's too important for language errors). 
Top tips for the University/City you studied at? Favourite places? Shops? Restaurants?
Make sure to have milk in the fridge before Sundays when everything closes! Find O'Connells and Fox & Friends. Tiffanys does a Sunday roast (which is a well-deserved break from the lifestyle of a student.  Parc Du Thabor will become your life. You'll walk/jog there/ grab coffee there, attend festivals there and quickly fall in love with its cherry blossom trees. The Christmas markets will make mulled wine and fake snow more accessible than ever. Rue De La Soif has so many quirky little bars that are well worth a visit (or a weekly visit). Bourbon d'Arsel has fantastic coffee, with a sofas upstairs that are perfect for DMCs. Columbus in Saint Anne, is Starbuck's older more sophisticated sister for a caramel cappuccino on the go. Delerium has that sports bar feel, that makes it more like the pub experience you would have at home. Great cocktails! 
You will find pizza vending machines on your travels (they are closer than you think) and you''ll never look back. It's the way of the future, don't question it. 1988, L'Espace and La Place will become familiar additions to your weekly schedule (the ideal clubs to dance until the early hours). 
Rennes' markets on a Saturday morning are always worth the visit. The fruit and veg is affordable and the vibes are immaculate. The sounds, smells and bustle will immediately lift your mood even if you're not buying anything. There's a daily book and record stand near the shopping centre in Saint Anne. I found so many gems here and it meant I could find the books for my course for a fraction of the price. Also browsing through 80s records makes you look cool and quirky or so I have been told.... 
The running track in the sports campus (really flat and do-able) is always open and local gyms have great membership deals. You could also just sit on a bench in Parc Du Thabor as the seasons pass and remark on the fact that its beauty never falters, whatever you're feeling on a given day.
What is the ESNcard?
The ESNcard is the membership card of ESN which means that you can access to all the services offered by the ESN and our partners. The aim of the ESNcard is to support and give opportunities to international students during and after their exchange.
It offers discounts in the cultural sphere (discounts for museums, theaters, concerts, events, language courses), entertainment (discounts in pubs, clubs, discos), and it gives you direct access to all the activities organized by the ESN sections. The advantage is that all the agreements and partnerships closed by the local sections are valid for the ESN card holders regardless of the section where the ESN Card was bought, so it is valid throughout all Europe!

To find more information and check all ESN partnerships visit www.esncard.org.
Who can get it?
You can get the ESNcard, if you belong to one of the following groups :
- You have been an international student (e.g Erasmus or any other exchange programme)
- You are currently an international student
- You are a member of an ESN section as a Volunteer/ESNer/Buddy
How to get it? 
If you go to UCD, DCU, NUI Maynooth, or DKIT please ask your section! If you go to ANY other institute in Irland or are an intern please email ireland-admin@esn.org